Security Printing
The identity counterfeiting is growing global threat which has turned into valuable assets. Due to the important matter, we ensure to provide the highest quality of products and adopt the advanced printing techniques and broad array of anti-counterfeiting technologies including of printing ink, special paper and hologram foil to customers for preventing their products from illegal duplication or counterfeiting.
We manufacture all types of security printing products;
• Passbook                    • Postal Stamp
• Certificate                   • Postcard
• Share Certificate       • Boarding Pass
• Commercial Cash Coupon or Gift Voucher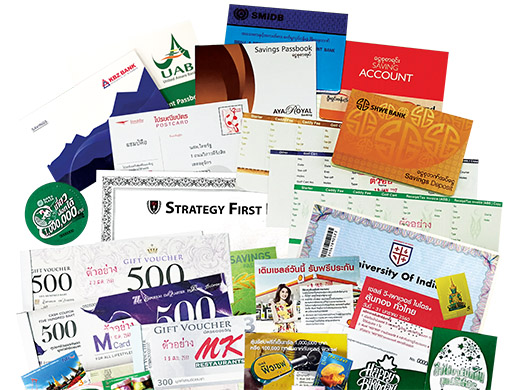 Security Features
We manufacture all types of business forms, commercial documents: different types of cheques, continuous forms, pin mailers, brochures, one-part mailer, payroll slips and other commercial products. Every process is monitored properly in printing all the security products and non-security products. We can also support all types of paper printed with Magnetic Ink Character Recognition (MICR) and watermark by applying the fraud prevention methods.
Now, we are offering the Fast Cheque Service in which banks can easily place online orders via E-Ordering system, together with our delivery service to different bank branches to save your time and money.